EX41, TAKE THE E-BIKE CONCEPT TO NEXT LEVEL
Designed to be the at the forefront of the mountain e-bikes, the X41is our most innovative electric bike to date.
For those who want to ride greater distances, need an extra momentum on their terrain rides or feel the adrenaline rush of discovering new places beyond MTB standards.
Ride any trail you set trail you set your mind to
In our quest to design the best electric mountain bike, we´ve improved our previous work with the EX40 to offer a new level of e-bike. Built to reach where others can´t, feel the power of the quiet Polini EP3+ MX engine on climbs and the ability to ride any trail you set trail you set your mind to. In addition, the new Polini batteries with 880Wh of autonomy ensure long days of pure MTBing.
Fitted with the revolutionary Polini EP3+ MX, this compact and lightweight (2.950 grams) engine achieves a torque of 90Nm and a peak of 600W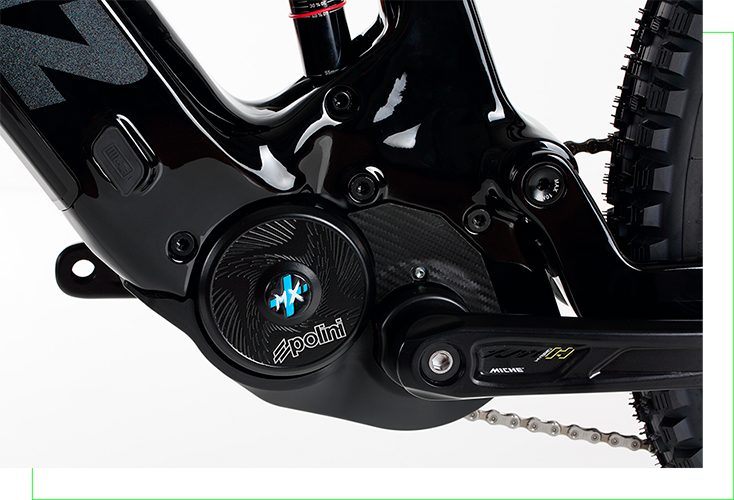 No trail or route will be able to resist this machine made for the next step of mtb e-bikes.
If it wasn´t enough, we added the Italian firm´s brand new 880Wh battery for the most demanding riders who need more autonomy on their MTB rides. The 4.350 grams of the battery add up to a total of 7 kilograms and 300 grams to the whole Polini set.
As for the display, the EX41 features Polini´s TFT display, giving the rider full access to the pedaling power, cadence and to other useful information for the rider.
The Polini engine has 5 assistance mappings, 3 as standard and 2 to be customized by the user. Each map consists of 5 levels of assistance, reaching up to a peak of 400% of pedaling assistance.
Available in 4 assemblies, the Rock Shox 35G RL and Fox Float Rhythm 36 forks with long travel and tighter head angle allow for greater ground attack and shock absorption.
MTB
EX41
Every rider is different and we all have our preferences. But you can choose your bike to suit you 100%. Click here to configure yours!
Customize